Greetings from Midwestern Plains of Iowa!
In an effort to keep the Spirit of the Traditionalist Gunmaker alive, I build antique blackpowder rifles and pistols. The vintage of the guns are from 1730 to 1830, and are representative of several different schools of earlier gunsmiths. All guns crafted in the shop are in a traditionalist vein. The projects are shown as they transition from a block of wood to the finished state. You'll see a variety of guns from Pennsylvania, Christian Springs, Southern Tennessee Mountain and various pistols including a free-styled target pistol I designed.
The goal for the website is to serve as a guide for future gunbuilders who want to learn the craft. I only hope I can accomplish this goal. Check out the Project Photo Albums and click on the rifles. The whole rifle building process will unfold to show you how to do it yourself. Some of these albums are like "How To Guides" to help other gunbuilders.
Example: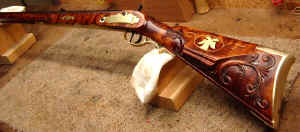 For example there are a few Edward Marshall (Christian Springs / Monrovian) Hunting Rifles. The Hunting Rifle has the most detailed steps shown. The Transitional Lancaster (fancy rifle) and the Tennessee rifle projects were other rifles showing the rifle building process from beginning to end, too.
Take a look around the Rifleshop to give you an idea what tools I have available. Most of the work is done by hand.
Created an " Journeyman notebook" under the Tips & Aids section in an attempt to share some simple tools, thoughts and etc of the trade to share with others.
My mentor & Master Gunsmith is Steve "Bookie" Bookout. He has a website, too and you'd find it very interesting as well. Steve earned the CLA "Pioneer Award" for 2007. He has his own shop is called "Toad Hall Rifle Shop". We've been friends since 1978.
We wrote a book together on how to build "A Wooden Iowa Rifling Bench"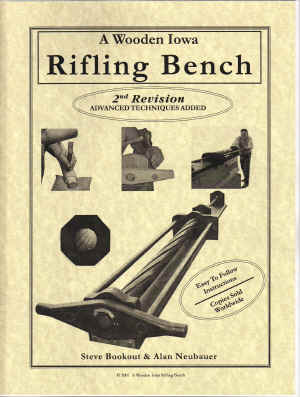 similar to those built over a hundred years ago. The purpose of the rifler bench is for putting rifling grooves into gun barrels. This is the same method used by the Appalachian rifle builders. See the Rifling Book link for more information. Unfortunately this book is no longer available. We printed several hundred books and they have been distributed worldwide.
In the last few years, I've taken on Apprentices who wanted to learn the craft. They have their own dedicated pages in this website.
I been graced with the opportunity to visit Weston, MO on three occasions and attend the Bevel Brothers' "Over The Log Shoot" in years past. I dedicated a page of photos on those unique shoots. We had our own Iowa Original Chunk Gun Shoot.
Favorite Things To Do: Playing with my grandchildren, building guns in the shop, shooting black powder, prospecting, and fishing. (Notice I said prospecting. I've prospected for gold in Alaska, Australia, California, Indiana, Tennessee, Michigan and Iowa.)
Feel free to drop me a line if you are having issues building your pistol or rifle. I'm glad to help. If you feel you can not finish a project let me know. Always looking for new challenges.
Again, Welcome To The Shop & Look Around Awhile!
(Site Created 03/30/04)
To Read The Guest Book Just Click On The Link Below
(You can read it with out having to sign the book)

PLEASE NOTE: To just read the Guestbook, just click on the button. To sign the book, click the button above. Also I'm creating a new mailing list for those interested. Send me an email by clicking the Hoot AL Owl below. This way I can keep you updated when the website is updated. Sorry for the confusion and thanks.
Update: 02/03/2023 (Click on the photos in the website and they will enlarge)
Recent Projects: Built two Southern Mountain rifles for my grandsons. One with brass furniture and the other one in German Silver. Built both rifles at the same time. I will try to show you some of the steps taken to build these rifles from black walnut blanks. It was a fun project. Enjoy!! Please see the Projects Page.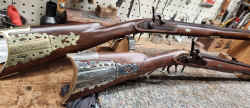 Mailing address is:

503 E.16th St. N., Newton, IA 50208

Phone: 641-831-2144: (No calls after 9 PM CST, or Sundays & Holidays, please!)

Rearranged the Project Photo Albums page by placing all the photo albums with detailed breakdowns of the projects at the top of the page instead of forcing people to search and find them. Hopefully that will make it easier to locate "how-to" information for your projects.

If you like the site or have any questions, drop me a line by clicking on "Hoot" below.

(c) Copyright 2016 All Rights Reserved.